Winter Care for Gunnera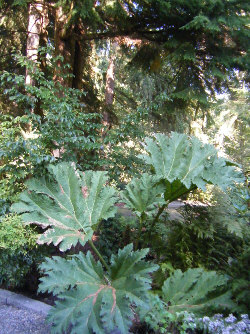 If you have a gunnera plant in your garden, you must have a lot of space! The leaves of gunneras can grow up to 6 or more feet across. Besides liking a lot of space, gunneras also love moist soil, so they're a perfect choice if you have a pond or boggy area in your garden.
The Gunnera manicata plants at PowellsWood have been growing happily for years near the creek that runs through the garden, and in a moist area of the woodland garden. Visitors often comment about the huge prehistoric-looking leaves. This year, after such a rainy spring, our gunneras have really flourished—we've never seen the leaves so big!
Gunneras can last through many winters in the Puget Sound region, but since they are native to warmer climates, gunnera plants need a little extra attention to see them through the cold winter months. Here is what we do to protect the gunnera plants at PowellsWood: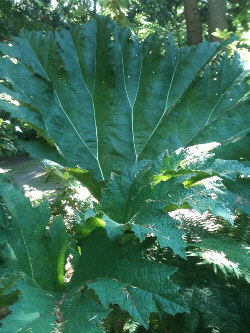 In the fall, before the first frost and once the huge leaves begin to decline, we fold the leaves over the crown of the plant. Then we cover the leaves with a layer of burlap coffee bags, and on top of that we place 6 to 8 inches of woodchips. (If we don't have burlap bags on hand, we add a couple more inches of woodchips for extra protection.) These layers help insulate the plant through the cold winter months.

In the spring, when we see the beginnings of new growth—while watching the forecast to make sure any chance of frost has passed—we carefully spread any remaining woodchips away from the crown. With a little extra attention in the fall, we are treated with a whole new season to admire this amazing plant.
Do you have a gunnera plant in your garden? How do you protect it during the winter? We'd love to hear your ideas!
This entry was posted on 11/25/2011 in Northwest Gardening Blog by PowellsWood