The Mirror Raves About the Festival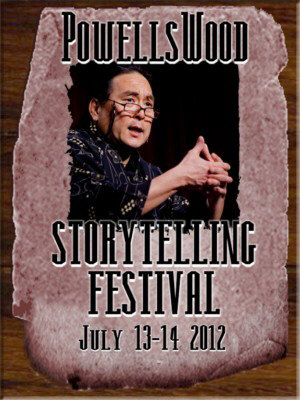 "Once upon a time," wrote the Federal Way Mirror's Andy Hobbs last week, "PowellsWood Garden hosted a successful storytelling festival in Federal Way."
And, as Hobbs noted, the Mirror wasn't the only press on hand, either. CBS camera crews also recorded footage for inclusion in an upcoming CBS Sunday Morning episode.
Click here to read Andy's full article. Here's a little more of what he had to say:

The vision for hosting the PowellsWood Storytelling Festival stemmed from Monte and Diane Powell's experiences at similar festivals — including the big one in Jonesborough, Tenn. The Powells loved how storytellers whisked the audience away to another world steeped in history and imagination.

They wanted Federal Way to bask in that same world, so the PowellsWood Garden pursued a vision for a local storytelling festival. About 200 people were expected to attend last weekend's event. More than 400 came.

The festival created an opportunity for Federal Way to sample culture and nature, right here at home. PowellsWood gave people across the region a good reason to visit and play. Most importantly, the festival nourished the community's lifeblood, if only for a weekend — and that vision, dear reader, always leads to a happy ending.
This entry was posted on 07/27/2012 in Northwest Gardening Blog by PowellsWood