Sheet Mulching Controls Weeds, Improves Soil
One way we control weeds at PowellsWood—besides yanking them out by hand—is by sheet mulching. Sheet mulching works well in large spaces that are not heavily planted, and is a natural way to suppress weeds while helping build the soil. We've used this particular sheet mulching technique at PowellsWood for many years with great success. It even works on blackberry!
Sheet mulching basically entails placing layers of cardboard, newspaper, and mulch on top of the weedy area—and then letting nature do the rest.
The best time of year to sheet mulch in the Puget Sound area is in the fall (usually in November), when the rainy season begins. Over the fall and winter months, the cardboard kills the weeds underneath by not allowing in any light, while the gradual breakdown of the cardboard attracts beneficial worms to the area. Come spring, you are rewarded with beautiful, nutrient-rich soil.
Before sheet mulching, we usually clear the area first by cutting down the weeds or pulling them out, although this is not necessary unless you have something very aggressive such as blackberry; or, if the weeds are tall, your job will be easier if you cut down the weeds first.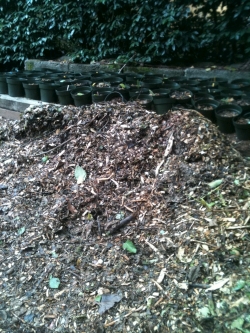 How to Sheet Mulch
Supplies:
Cardboard

Newspaper

Mulch

Water
1. Find plain cardboard. Use only plain cardboard that is not glossy or waxy. Remove any packing tape, staples or glossy pictures—these won't break down quickly. Make sure the cardboard does not have colored ink on it (black is okay). A good place to ask for cardboard is your local appliance store; they usually have nice big pieces you can use.
2. Place the cardboard. Overlap the cardboard on top of the weedy area so there are no open gaps where weeds can grow through. If you are laying cardboard on a hillside, you may need to use landscape staples, rocks, or wood to keep the cardboard from sliding down the hill—we prefer to use rocks or wood so you don't have to worry about any harmful substances leaching into the soil.
3. Add newspaper. On top of the layer of cardboard, add a layer of newspaper. Use only black-and-white newspaper—be sure the paper is not glossy, such as the type that ads are often printed on.
4. Place the mulch. Spread 3-5 inches of mulch on top of the cardboard and newspaper layers. At PowellsWood, for mulch we use woodchips (above) or Cedar Grove Northwest Garden Mulch.
5. Water. Soak the sheet-mulched area well with water. Make sure the area stays wet so the cardboard can break down. If you're lucky and have plenty of rain, let nature do this part for you!
6. Enjoy your newly enriched soil—and plant! In the spring you will notice that most of the cardboard has broken down. You will also notice a lot of worms—and fewer weeds—a good thing! You can plant directly into the sheet mulch. The cardboard will be very soft at this stage and you will be able to dig right into it and plant your favorite plants.
To keep weeds from coming back, you might consider planting groundcovers in the newly sheet-mulched area. We've had success with many types of native and nonnative groundcovers at PowellsWood—check out our other blogs about groundcovers. Click here for details about native groundcovers, and click here for details about non-native groundcovers.

Have you tried sheet mulching in your garden? What sheet mulching technique have you used? We'd love to hear your comments!
This entry was posted on 12/05/2011 in Northwest Gardening Blog by PowellsWood