Seattle Botanical Gardens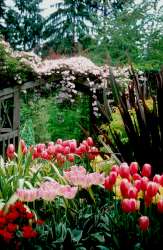 Seattle is a fantastic place for gardening, and PowellsWood is a wonderful part of that tradition.
One of the first stops in the Seattle area for garden enthusiasts is the Washington Park Arboretum, is a hidden gem on the shores of Lake Washington. Jointly managed by UW and the City of Seattle, its 230 acres are a dynamic assortment of plants found nowhere else. The Graham Visitors Center contains an information desk and a gift shop managed by the Arboretum Foundation. The separate Japanese Garden, located at the south end of the Arboretum has an entrance fee and is managed by the City of Seattle.
Another popular destination is Kubota Garden, a stunning 20-acre landscape that blends Japanese garden concepts with native Northwest plants. The City of Seattle acquired the property, which is an historic landmark, in 1987 from the estate of master landscaper Fujitaro Kubota. Kubota was a horticultural pioneer when he began merging Japanese design techniques with North American materials in his display garden in 1927. The Gardens are a spectacular setting of hills and valleys, interlaced with streams, waterfalls, ponds, bridges, and rock out-croppings with a rich array of plant material.
On a smaller scale, but no less impressive, PowellsWood combines the best of English gardening with sustainable Pacific Northwest gardening practices.  A cultivated paradise hidden in Federal Way, just South of Seattle, amongst residential suburbs, the three acres of PowellsWood are nestled against another thirty-five acres of native successional forest. The garden design itself features eight unique rooms graced with nearly a thousand varieties of trees, flowering shrubs and plants. The woodland and shade gardens in particular demonstrate how private landowners can use natural land features to develop stunning landscapes. The garden's perennial borders thrive, the fruit of an extensive soil conservation project. Walking paths, a meandering stream and pond blend gently into the groves and ravines of Redondo's historic upper Cold Creek watershed. A conservatory-style Garden Room offers shelter when the elements threaten.
Make PowellsWood a part of your garden tour of Seattle.  Click here for driving directions.
This entry was posted on 05/28/2011 in Northwest Gardening Blog by PowellsWood