Schedule Set for Buds & Blooms May 12-13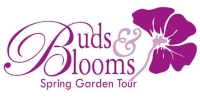 What a fun weekend it's going to be!
Federal Way's Buds & Blooms festival took a hiatus for 2011 but is back this year, bigger and stronger and more vibrant than ever. Events will be held once again at PowellsWood, the Rhododendron Species Garden, the Pacific Rim Bonsai Collection, the Commons, and more. PowellsWood will be hosting teas, lectures, musical groups, tours, and (of course!) a veritable sea of vibrant floral color!
The Saturday schedule includes photographer Michael Brunk, musicians W.B. & Bonnie, horiticulturalist Marianne Binetti, and more. Sunday we'll have storyteller Margaret Read MacDonald, harpist Victoria Norman, nursery operators Kathy and Scott Ramin, and the list goes on…
Plus, as always, tea and treats in the Garden Room!
Click here to check out the complete schedule of events at PowellsWood… and click here to find out more about the whole Buds & Blooms tour.
This entry was posted on 04/14/2012 in Northwest Gardening Blog by PowellsWood