Recovering from Dry Weather, Pt. 2
A couple days ago we talked about one of the featured garden plants that has bounced back the quickest in the recent spate of wet weather. Here's another!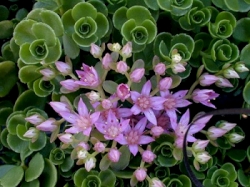 We love sedums! The lower-growing sedums make a perfect groundcover for Puget Sound area gardens, and some even perform well in shady, moist spots. They are an economical plant, too—you can buy just one plant, and easily pinch off a small bit and pop it into a new spot in the garden where it will quickly make itself at home. Sedums, like 'Ppink Jewel' at right, are a great plant to "knit" the garden together.
We haven't found any sedums to be invasive, though some may be a little more enthusiastic than others, but they are easily removed if you wish.
Sedums make a good addition to hanging baskets, too. Since baskets tend to easily get dry, you don't have to worry as much about keeping them well-watered when they're planted with sedums.
We've been adding lots of sedums to our new Fuchsia Garden, where they are thriving. Some of the varieties we've planted include Sedum album 'Green Ice,' Sedum lydium, and Sedum kamstchaticum, as well as the following Great Plant Picks: Sedum cyaneum, Sedum spurium 'Pink Jewel', and Sedum cauticola 'Lidakense'.
This entry was posted on 12/15/2012 in Northwest Gardening Blog by PowellsWood