Recovering from Dry Weather, Pt. 1
During this year's unusually dry summer and early fall (it's already beginning to seem long ago), it was interesting to note which plants were able to tolerate the dry weather and which suffered. The poor rhodies and deciduous azaleas were especially droopy, unaccustomed to so many days without rain. The hydrangeas and astilbes, too, declined earlier than usual and required extra water to keep them going. Even when temperatures cooled down in early October, it was still so dry we had to keep watering every other day.
By mid-October, though, our rains returned and the thirstiest plants quickly perked up, so we could put our hoses away and let Mother Nature take over the watering job… which She has been doing with quite some gusto it seems…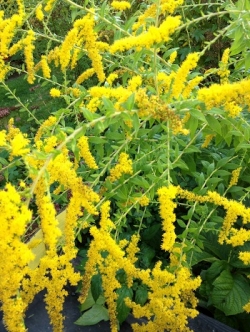 Here's one our featured plants that recovered quickest!
Solidago rugosa 'Fireworks' adds golden color and interesting texture to the fall garden.
We've had this plant in the perennial border at PowellsWood since 2006. This sturdy perennial brings height to the border while not requiring staking. It starts blooming in summer and on into autumn, and it's a Great Plant Pick, too.
This entry was posted on 12/12/2012 in Northwest Gardening Blog by PowellsWood