Next Up… Storytelling Festival!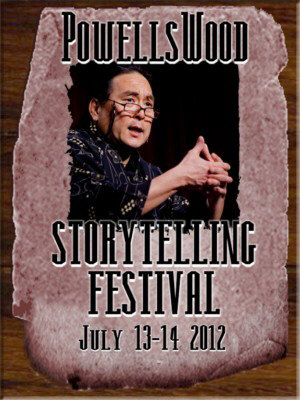 What a great weekend at the garden, with National Public Gardens Day on Friday and Buds & Blooms on Saturday and Sunday. The weather couldn't have been better, and it was so wonderful seeing so many of you again!
So it's time to start thinking about the PowellsWood Storytelling Festival, coming to the garden July 13–14!
The PowellsWood Storytelling Festival is a brand new event this summer at the garden. Here's your chance to listen to master storytellers of national and regional caliber, or to hone your own storytelling skills. Storytelling for children's groups will also be on hand.
Here's the basic schedule of events:
Friday, July 13 – Advance Registration Required:
Storytelling workshops for adults

Storytelling for daycamp and daycare groups
Saturday, July 14 – Tickets Available in Advance and At the Door:
For registration, ticketing, and other detailed info, visit the PowellsWood Storytelling Festival website. Click here!
Volunteers needed!
If you'd like to help be a part of this event, volunteers are very much welcome! Volunteers are needed for food service, parking, and more. To volunteer, click here.
This entry was posted on 05/14/2012 in Northwest Gardening Blog by PowellsWood