New Bridge and Pond Enhancements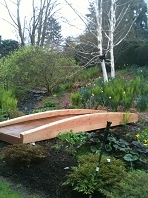 While we've been cleaning up storm debris and preparing for events this spring, we've also been continuing to add to and enhance the garden. One of the newest additions is a cool new wooden bridge that crosses the stream, affording visitors a new vantage point of the garden. The trail on the opposite bank will be completed during the summer.
Nearby, the pond is undergoing further enhancements. Aquatic plant specialists Scott and Kathy Ramin of Still Waters Aquatic Nursery, who helped rejuvenate the pond last year, have returned again this year to do more extensive work. They've been clearing out more invasive grasses, adding more aquatic plants, and expanding the shoreline area to better feature the pond as a focal point in the garden. While making these enhancements, we always keep in mind our wildlife friends, and continue to ensure the pond provides a safe refuge for them, as well. Right now, we've got a brace of ducklings paddling about after their mother!
It was so wonderful having the Ramins at Buds and Blooms this year, too. They were on hand to talk about the pond renovation, answered questions about water features for residential gardens.
This entry was posted on 05/21/2012 in Northwest Gardening Blog by PowellsWood