Like Us on Facebook… and Win!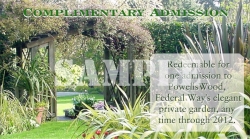 Have you liked us on Facebook yet?
A lot of people have… and as a small token of our appreciation, we'll be giving two free passes to PowellsWood to whomever will be our 200th friend. Tell your friends! Thanks again so much to all our current friends and new friends-to-be!
This entry was posted on 02/09/2012 in Northwest Gardening Blog by PowellsWood