Leave Something at the Garden?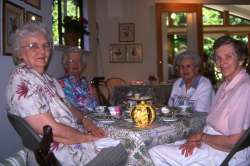 What a great time we had at the garden for National Public Gardens Day May 6, and our annual Mother's Day Weekend celebration May 7 & 8.
It seems that visitors always have a great time, too… so great that they lose track of things that they've brought with them!
If you lost something while visiting on Mother's Day, email us (admin at powellswood.org) or give us a call (253-529-1620) and let us know what you're missing. We've probably got it!
This entry was posted on 05/21/2011 in Feed by PowellsWood