Ice Storm Revisited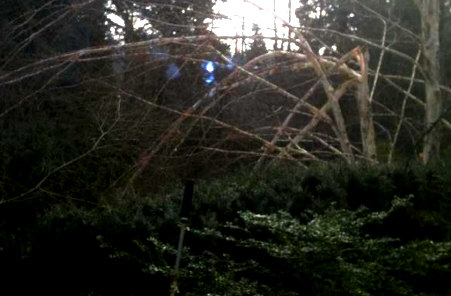 The ice storm in January 2012 hit the South Sound pretty hard, and PowellsWood was no exception. Three months later, we are still cleaning up debris in the storm's aftermath. The storm left broken branches and damaged trees throughout the garden, especially in the valley and stream. Several trees were completely lost, including a large maple near the patio, one of the birch trees (see above), and a hornbeam near the driveway. The Mount Fuji cherry trees lost many major limbs (below right). In the valley, numerous alder trees toppled over. Several birch trees, bent out of shape by the heavy ice, had to be tied to other trees to try to recover their upright form. Fortunately, the fir trees came through the storm unscathed.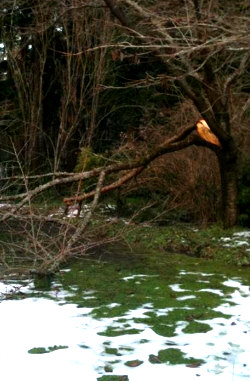 The storm has prodded us to reassess the garden. We're looking at the garden with new eyes and asking, which trees are top-heavy? Where can we prune now to avoid losing specimens in the future? We've also been faced with some difficult choices—do we try to save a damaged tree and recreate what was once there, or do we remove it and start all over? In some cases, Nature has already made the decision for us—where major trees have been lost, we are looking at creating new planting designs.
PowellsWood isn't alone in experiencing this loss and reexamination. Other gardens are experiencing their own losses, too, and the storm is still a common topic of conversation among the garden community.
The cleanup—the clearing of branches and debris, pruning, chipping, repositioning plants—has put us about three weeks behind where we normally are at this time of year, so it has been a very busy spring so far!
This entry was posted on 04/28/2012 in Northwest Gardening Blog by PowellsWood