History Slider 3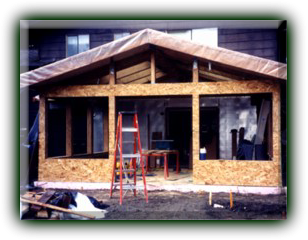 From 2001 to 2002, the latest large addition to the garden was completed: the Woodland Garden. Nestled amongst the tall fir and hemlock in the crook of the access road's northern elbow, the Woodland Garden is specifically designed to take advantage of dry, acidic forest duff and heavy shade.
Most recently, the Patio and Garden Room were completed during the winter of 2002-2003, at the same time that the slope across the stream from the west Perennial Border was being renovated. The Garden Room, which hosts gardening classes and teas, can also be rented by garden clubs as a meeting space—a social and educational gathering spot.
As PowellsWood has matured, and the word of its existence has spread, it has become a symbol of hallmark Powell values. You'll see beauty wherever you look, a reflection of the Powells' personal touch. Be a part of the vision that transformed a clandestine dump into a lush private garden. Bring the tranquility and beauty of a garden into your life.
This entry was posted on 11/30/2013 in History Slider by PowellsWood