Hedge – Leyland Cypress (x Cupressocyparis leylandii)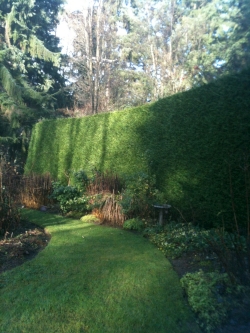 Leyland Cypress (x Cupressocyparis leylandii) likes the sun! It is located along the perennial border at PowellsWood and provides a very tall screen. This plant receives the most comments from our visitors. One visitor said she did not believe it was real—she had to carefully walk up to the hedge and touch it!
The cypress at PowellsWood were planted in 1994, and were planted very close together. Sunset Western Garden Book says they are fast growing and can reach 15-20 feet high in 5 years, and can grow as much as 60-70 feet tall and 8-15 feet wide.
A small part of this hedge once had a clematis vine growing up in it. That section of the hedge died back, but we are happy to see that it is slowly recovering!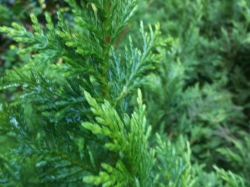 We look forward to seeing you at our first ever Pruning Demonstration Open House on Monday, January 16.  Click here for more details!
This entry was posted on 01/14/2012 in Northwest Gardening Blog by PowellsWood