Got Moo-Doo?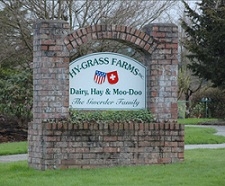 We're trying something new at the garden this year that we discovered at February's Northwest Flower & Garden Show. Moo-Doo mulch is an all-natural soil emendment made from aged cow manure. This sustainable product comes from Hy-Grass dairy farms in Auburn—check out their website at www.moo-doo.com.
According to their website, this organic mulch is "made of aged cow manure and a sawdust mix. When it comes to your garden and flower beds, you want the right product at the right time for the right price. … As a combined mulch and fertilizer, it's affordable, safe for the environment, clean to use, and packed with soil nutrients."
The mulch is priced at $30 for a level pick-up truck load or $15 a yard… and delivery is available!
This entry was posted on 05/28/2012 in Northwest Gardening Blog by PowellsWood