Garden Renovations Under Way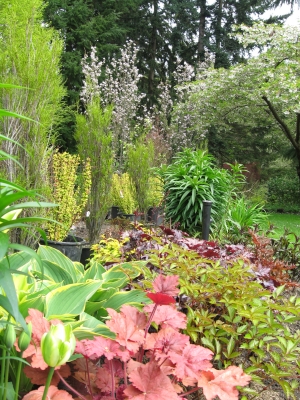 This spring PowellsWood garden is abuzz with renovation activities and as a result has not yet re-opened its gates to the public, after having been closed for the winter.
Instead of our usual tours and events, the garden is under the watchful eye of Portland area garden designer Rick Serazin who is re-working many of the garden's rooms. (At right, the Spring Garden renovations are in process.) Although the changes are happening quickly, the process will not be complete until late spring, thus PowellsWood will not be open for Mother's Day weekend. Watch for news about a PowellsWood grand re-opening celebration in early summer.
Renovation became desirable for a variety of reasons. Twenty years had passed since the garden's first plantings were established. Some plantings did not retain their initial glory as they aged. The perennial border along the stream had reached the end of its lifespan and needed to be re-worked. The house garden had lost most of its structural elements due to either deteriorating condition or damage from the January 2012 ice storm. The hillside west of the perennial borders had never been fully planted; these new plantings will add exciting structural elements to the garden. Additionally, an irrigation and drainage issue in the entrance garden made the pathway difficult to navigate, a fix to this issue will allow for more foot traffic through the space.
Designer Serazin utilizes a wide palette of plant material and is able to take full advantage of the wealth of new plant varieties that have become available to northwest gardeners in recent years. Global climate change has led to a heightened awareness of the need to connect people to the natural world and the new plantings at PowellsWood reflect this goal. The garden owners, Monte and Diane Powell, are excited to share Serazin's dynamic style with local gardeners. They hope the PowellsWood Garden will continue to inspire and sooth the soul in a unique way.
This entry was posted on 04/27/2013 in Northwest Gardening Blog by PowellsWood