Bulbs at PowellsWood: Buying and Planting
We had soooo many questions about our bulbs at this year's Buds & Blooms Spring Garden Tour in May. Visitors to the garden wanted to know where we purchase the bulbs, how we plant them, and what kinds of bulbs we plant. Here is a behind-the-scenes look at how the showy display of bulbs is created each year at PowellsWood…
The bulb process begins in fall, in late October to November, when we start ordering bulbs for the following spring. The majority of bulbs come from Van Engelen Inc. (www.vanengelen.com). Van Engelen is a wholesale company that sells bulbs in large quantities, but they do have a sister company, John Scheepers (www.johnscheepers.com), which offers the same bulbs in smaller quantities. In addition to Van Engelen's, this year we also ordered bulbs from Brent and Becky's (www.brentandbeckysbulbs.com).
As soon as the bulbs arrive, we begin planting. We plant the bulbs in those areas where we noticed last spring needed more color. We plant all of the bulbs—except for the tulips—in the ground. After planting, we dress the top of the soil with a bulb fertilizer.
And then, we wait with anticipation for spring!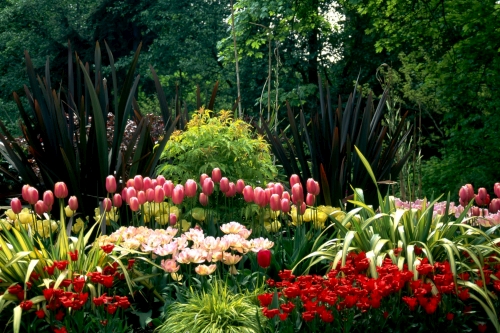 To learn more about specific bulbs at PowellsWood, please see our posts about daffodils, alliums, leucojum, and tulips.
This entry was posted on 08/27/2012 in Northwest Gardening Blog by PowellsWood