Buds & Blooms, May 12-13 2012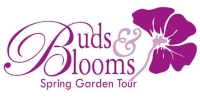 Federal Way's citywide Buds & Blooms festival returns to PowellsWood this year on Mother's Day weekend, May 12-13, 2012! Bookmark this page for the most up-to-date schedule details of programs at PowellsWood. Click here for the full schedule of Buds & Blooms programs.
Click here to purchase tickets for the Buds & Blooms Garden Tour in advance for a discount price of $15.00. Tour tickets may also be purchased at the gate for $20.00. Tour hours are 10:00 am to 4:00 pm.
Buds & Blooms took a hiatus for 2011 but is back this year, bigger and stronger and more vibrant than ever. Events will be held once again at PowellsWood, the Rhododendron Species Garden, the Pacific Rim Bonsai Collection, the Commons, and more. PowellsWood will be hosting teas, lectures, musical groups, tours, and (of course!) a veritable sea of vibrant floral color!
---
Saturday, May 12
11:00 — Splish, Splash: Water in the Garden – Kathy & Scott Ramin
12:30 — Bees and Trees: Tales for Young Listeners" – Dr. Margaret Read MacDonald
12:30 — Creative flower arranging using plants from your own garden – Rachel Clayton

1-3 pm — Harpist

1-4 pm — W.B. and Bonnie, Bluegrass
1:30 — Symphony in Bloom – Marianne Binetti
3:00 — Nature Photography: Right Place, Right Time – Michael Brunk
---
Sunday, May 13
11:00 — Splish, Splash: Water in the Garden – Kathy & Scott Ramin
12:30 — Bees and Trees: Tales for Young Listeners" – Dr. Margaret Read MacDonald
12:30 — Creative flower arranging using plants from your own garden – Rachel Clayton
2:00 — Shortcuts to a Show Garden – Marianne Binetti
2-4 pm — Victoria Norman, Harpist
3:00 — Photography: The Art of the Invisible – Brian Morris
---
Both Days
Kids' crafts and activities (10:00-12:30, 1:30-4:00)

Honey bee demonstrations

Garden tours

Tea, cookies and scones in the Garden Room (11:00-3:00)
This entry was posted on 02/18/2012 in Northwest Gardening Blog by PowellsWood