Book Your Holiday Gathering With Us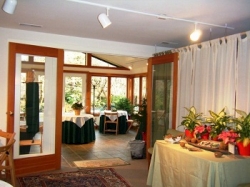 Looking for a beautiful place to hold your holiday party? We are currently taking reservations for the Garden Room at PowellsWood for holiday gatherings.
Set in the midst of the three-acre garden at PowellsWood, the Garden Room provides a quiet and scenic retreat for your business or social gathering.
For rates and details about the Garden Room, please visit our rental bookings page.
We look forward to helping you make your holiday event a special one!
This entry was posted on 09/09/2014 in Events Listings by PowellsWood