Activities at PowellsWood This Sunday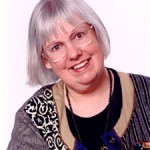 Federal Way's citywide Buds & Blooms festival returns to PowellsWood this weekend. Here's what's on tap for Sunday:
11:00 — Splish, Splash: Water in the Garden – Kathy & Scott Ramin
12:30 — Bees and Trees: Tales for Young Listeners" – Dr. Margaret Read MacDonald (right)
12:30 — Creative flower arranging using plants from your own garden – Rachel Clayton
2:00 — Shortcuts to a Show Garden – Marianne Binetti
2-4 pm — Victoria Norman, Harpist
3:00 — Photography: The Art of the Invisible – Brian Morris
Click here to purchase tickets for the Buds & Blooms Garden Tour in advance for a discount price of $15.00. Tour tickets may also be purchased at the gate for $20.00. Tour hours are 10:00 am to 4:00 pm.
This entry was posted on 05/12/2012 in Northwest Gardening Blog by PowellsWood